More and more buzz and people talking about online tools to grow your business, but where to start? I mean, you're already online right. What else is there?
Well let's begin by looking at your shortlisted marketing options, you've got SEO, email, PPC, social media, automation, blogging and many other options. Something is amiss; you just don't know where to get started.
That's okay, it's normal, you are not alone.
You see, digital marketing is an all-encompassing term representing different online methods of marketing and growing your business. So, it can be somewhat complicated to launch a robust or large-scale campaign, especially if your company lacks the resources, time, and expertise for such an undertaking.
For that reason, it makes sense to work with a digital marketing agency. In this post, we're going to explore some of the reasons for working with one.
Let's dive right in.
10 Reasons to Hire a Digital Marketing Agency in 2022
1. Focus On Running Your Business
In most cases, online marketing means hiring new expertise to run the campaigns. It's rare, especially for small businesses, to have the talent internally. Plus, it will need some of your time and attention as you'll be working with an external team and your internal team to coordinate. Don't forget that it will also take resources and time to just set up the team and the campaign itself. Having internal resources working hand in hand with your new agency improves overall performance and ROI.
This can be quite time-consuming, and an agency can come in handy to lift this burden off your shoulder. You don't want to spend months training your team. That time can otherwise be used for growing your business from the inside.
With an agency, you simply need to share your goals and their timeframe. SMART goals.
There is no training, onboarding or managing another team. All the elements of your online marketing are handled internally by the agency's team. This frees you up to run your business better.
2. You Cut Down the Overall Costs
When deliberating over hiring a digital marketing agency, many businesses usually compare the cost of an in-house operation to the price of the agency. You'll be surprised to learn that an agency is much less costly over time.
Agencies work as independent contractors, so you eliminate the need for payroll taxes. You also cut the recurring costs of having full-time employees such as benefits, health care costs, and salaries.
Some of the tools you need to run the campaigns can also come at a hefty one-time payment or subscriptions. Most reputable agencies already have the essential digital marketing tools, so you won't need to spend a dime to get one.
3. Work with Experts
For most small businesses, you just can't hire digital marketing experts at the onset of your campaign. This is something that takes time and thorough consideration of the types of expertise you need. Plus, it can be time-consuming (or impossible) for your team to understand all online marketing techniques, such as SEO strategies and social media marketing. Let's not even talk about keeping up to date on all of the above, which is constantly changing.
Instead, with a digital marketing agency, you can get access to a team of experienced and qualified experts who do this all day every day, and twice on weekends. Their expertise and tools are their product, and in large measure, they can be applied to virtually any business or organization.
The common question we get is whether it is cheaper to hire an agency or a consultant, and for a long time the answer has been "it depends".
As of January 2020:
The average hourly rate for digital marketing consultants worldwide is $140.29 per hour.
The average hourly rate for US-only digital marketing consultants is $161.57.
So how much would an agency be in comparison. Yep, it still depends on the exact mix of services that is required to meet your goals, however, it's NOT $161.57 per hour (which equates to a $336,066 annual salary without benefits).
According to WebFX, the average cost for digital marketing services in 2020 ranges from $2500 to $12,000 per month for small-to-midsized businesses (SMBs). The large range here is due to the "a-la-carte" pricing approach that allows an individual business to pick and choose the products or services that make sense to them.
This breaks down by type of work or discipline as follows: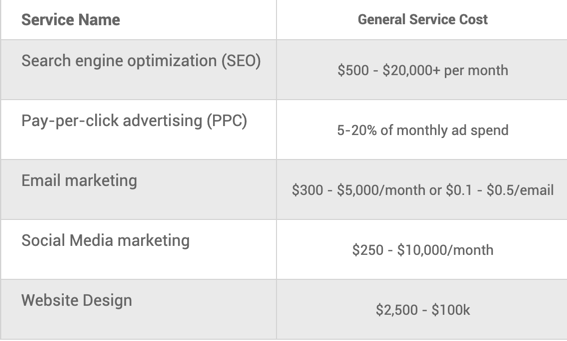 In almost all cases, you get what you pay for in terms of digital marketing services. So "cheap" services often don't drive the results you want. That is why it's critical to set a reasonable digital marketing budget. If you try to make your price range as low as possible, you'll get what you pay for, unfortunately.
What is a reasonable budget, though?
While several factors influence digital marketing budgets, like the size of your company and the scope of your project, the average digital marketing budget ranges from $30,000 to $145,000 per year for SMBs. Keep in mind that digital marketing is an ongoing strategy, so your budget may change as you grow.
4. Stay Relevant to Your Industry
At this point, you must understand that research is important before launching any campaign. You need to learn about your industry, your competitors and the latest marketing practices in your segment.
The onus of industry-relevant marketing practices is on the agency. They're tasked to research your market and identify your competition. Plus, they should follow the latest developments in digital marketing to ensure quantifiable results.
They should also identify and research your target audience to learn and understand their behavior, preferences, and interests. This is to ensure the adopted marketing strategies yield the maximum results possible and to keep your business abreast of relevant developments.
It is also very important to remember, if you do hire an expert, listen to that expert. Of course nobody knows YOUR business like you do, but you do not know it all. As Clint Eastwood as Dirty Harry famously growled, "A man (or woman – hey, it was a different time) has to know his limitations."
5. You Can Get New Ideas
In digital marketing, it's important to note that not all things will work for you. Some can offer disappointing results while others can be quite useful.
A good agency will give you great ideas on what techniques will give you results. They'll provide a new perspective to some of the things that your team had already been doing. They will assess your marketing efforts and create new ideas based on the viewpoint of the consumers. These projects work best when it's a truly collaborative effort. Your unique knowledge and that of the agency together for a 1+1=3 scenario.
For example, when it comes to social media marketing, a digital marketing agency will help you understand where your target audience is mostly available. This is not always intuitive and perhaps they have "moved" as new tools and platforms became available. They'll determine what content appeals to the most and how they share and consume it. This will help to streamline your social media campaigns. It's not an exact science by any means in the beginning. The advantage of a digital marketing agency is that as data from winning and "not-so" winning campaigns are collected, decisions going forward can be made based on actual real-world data and results.
6. It's a Scalable Service
One thing that makes a digital marketing agency your best bet for online growth is their scalability.
In a normal setting, you'd need to increase the size of your team whenever your business needs grow, or you want to launch something new. This means that your business will need additional resources to support and fuel the growth.
With a marketing agency, that's not the case. There will be no constraints on your current team and no need to expand your team.
A good agency can usually accommodate your needs as your business grows. Having a scalable and flexible agency is important, especially when expanding the services you want to include in your campaigns. More expertise, still a one-stop shop with the right agency.
7. They Offer Measurable Results
No business wants to make investments that bring no results.
With so many marketing methods in digital marketing landscape, it can be difficult to know the real ROI. However, an agency helps by determining the Key Performance Indicators (KPIs). These indicators help to figure out how your marketing campaigns are performing in relation to your objectives.
Also, they will identify the important metrics to follow across different channels to determine the effectiveness of each campaign. You'll also get monthly or quarterly reports on your campaigns and a normally a website audit to help you make sound marketing decisions with regards to improving your online foundation.
Typically, a digital marketing agency offers clear insights into how your current keywords are performing and how potential customers are engaging with your content and brand. Beyond that, optimizing your content for new keywords is an area of expertise that few business owners care to learn or do, while it is an agency's bread and butter.
8. They Have the Tools
Let's face it. Digital marketing requires the use of different tools for the many different jobs they perform to streamline each campaign. Unfortunately, there is nothing akin to a one-tool-for-all when it comes to marketing.
Most of these tools are premium services, and the costs increase with the addition of certain features or size of your email lists. You will need analytics, keyword research, competitor analysis, paid search management, and automation tools.
The cumulative cost of using these online marketing tools can be quite hefty for small and mid-size businesses. Digital marketing services already have these tools in place to help you make the most of your campaigns. You don't need to worry about the recurring costs that you're likely to incur with their use, nor the onboarding fees and paid training that is normally required just to get started.
9. You Get Professionalism for Your Native Ads
With the growth of native advertising, marketers are spending time and resources to learn more about it. The ability to display organic ads on various media platforms changes how customers interact with that content.
Unfortunately, knowing where to show your native ads can be an arduous process. As such, you can benefit from data-driven solutions offered by a digital marketing agency to determine the best placement and content distribution plan.
Native advertising offers a natural and organic way to display ads. When done right, it can provide a robust experience to boost your ROI.
10. Enjoy the Power of Storytelling
Your in-house marketing team (that might be just YOU!) works tirelessly to promote your products and services. This helps you to know what to improve and what to eliminate to make the product as attractive and viable as possible.
While all these happens, your digital marketing agency is busy defining and spreading your brand's message across different channels and platforms. They help to generate positive PR about your products and services. This contributes to improving your visibility and image; brand awareness.
Ideally, story telling involves creating compelling and engaging messages that connect and resonate with the target audience. Your agency achieves this by understanding your audience's needs and pairing them up with the right solutions.
Choosing the Right Agency
Before you wander off in search for a marketing company to work with, you may want to pump the brakes first. There's a good number of businesses out there, but not all of them will offer what they claim.
Digital marketing is a slow and continuous process, so choose the right firm. Run away from those companies that promise instant or quick results. Determine the main limitations and specialties of a firm before making your decision.
Let them tell you the primary industries they cover, and they must share with you some of the tools and techniques they use. If necessary, you can ask for reports of their past and current projects to examine their performance.
Also, determine the online performances of the agency's web properties. Their ranking on search engines helps to reinforce your relationship with them. Don't forget to confirm their experience in the industry.
Grow Your Business With a Digital Marketing Agency
One fact is that digital marketing has the power to grow your business faster than most marketing techniques and certainly faster than you could do yourself internally.
Hiring a digital marketing agency allows you to get started with your campaigns almost immediately. You don't need to navigate the learning curve or set up a team. It's possible to see your campaigns live within weeks after creating a strategy.
Start by first understanding your needs and sharing them with the agency. Digital campaigns work best if all parties are on the same page. Plus, your agency should enjoy the freedom of making decisions that best suit your interests and budget plan.
Do you have any question on digital marketing? Feel free to reach out to us.